Alumni Association
Dear Alumni,
The College, as you all know, has been excelling in the field of higher education of women since its establishment. There have been very constructive transformations in the quality of academic programmes offered by our College and the College is marching ahead with support from all the stakeholders. Variety of skill oriented programmes has been implemented in the College. More emphasis is laid on Students' research, which is evident through quality papers published by students along with their teachers.
Our College is also committed towards social responsibilities, which are now integrated into the curriculum. The student support services like Library, Computer lab and Gymkhana have been strengthened. Sanitary Napkin Vending Machine and Incinerator have been installed. More Sports facilities have been added in past few years which has also increased student participation in sports. The Centre for Skill Development runs some 18 odd courses in addition to two Career Oriented Courses ( Fashion Designing and e-banking) and courses of the Centre for Lifelong Learning and Extension of the Shivaji University, Kolhapur (Balwadi Teacher's Training and Music-Singing). The Competitive Exams Guidance entre is also functioning efficiently. From 2017-18 this Centre has expanded its scope to students outside students also. From 2018-19 the courses of the Centre for Skill Development will also reach out to women in the society at large.
You, as our Alumni, form an integral part of this system. Your feedback and suggestions are always welcome and will help us to enhance the quality of education. We look forward to hear from you. We urge you to be actively associated with our endeavor, both, as participants and as resource persons.
Come, join the  Alumni Association which came into existence in the year 2010. The mission of Alumni Association is to reach, engage and serve all alumni and present students by networking with one another to foster a life-long intellectual and emotional connection between the college and its graduates.
The Alumni of the college are expected –
To establish a meaningful association with the Alma Mater in order to stay involved.
To contribute towards the development of the college and to encourage values of modern education and ideals for which the college stands.
To work towards the goal of equality and empowerment of women/girls in its academic, social and cultural activities.
To pursue activities which would engender sense of belonging, camaraderie and strengthen the bonds between the students and alumni and the college
To institute the scholarship for needy and meritorious students.
To encourage cultural, sports, scientific, literary and charitable activities which are in consonance with the education imparted in the college and useful for
diffusion of knowledge.
The meeting of the association is held twice a year in the college. Students are required to submit the duly filled form of the Alumni Association on leaving the college after graduation or leaving the college for a third year course to the Chairperson of the Association Dr. Ila Jogi, Head, Dept. of Home Science. Approximately 1250 have been registered to the Association. Council of Alumni Association is in existence since 2010. It has been revised in March 2016 as below:
The Alumni of our college contribute to our college by providing their expertise like organizing some courses like Beauty Parlour Course, Spoken English Course, Mahendi, Rangoli, Flower Making, Handicraft skills etc. Some Alumni are invited as a Resource Person for the workshops, seminars, training programmes etc. Some students contribute by giving funds or in kind. Approximately Rs. 50,000/- fund is available with the association.
We are very proud that our Alumni are working successfully in various field in very good positions like Judge, Lawyer, Police Officer, President of Municipal Council, Member of PanchayatSamiti, Social Worker, Lecturer, Secondary School Teacher, Primary Teacher, Bank Manager, Bank Clerk, Postal Agent, LIC Officer and Agent, Well known Singer on TV and AIR, Beauty Parlour Professional, Fashion Designer, Interior Designer, Baker, HR Administrator, Librarian etc. and some alumni are working as a Faculty in our College.
The college organizes various programmes for the Alumni like Alumni Meet, inviting alumni as Resourse Persons etc. Alumni Meets were organized on 18, February 2010, 16 October 2011, 27 January 2012, 13 February 2012, 12 January 2014, and 5 March 2016, 4 March 2017 and 14January 2018.
**The Alumni Association membership form and Alumni Feedback form may be downloaded from the Downloads tab of this site.
.<![if !word & !ppt & !excel & !vml]>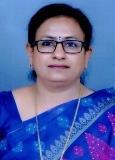 <![endif]>

Dr. Ila D. Jogi

Co-ordinator

<![if !vml]>